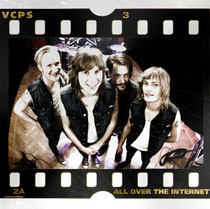 The songs of the single were recorded at the same time as their latest record, "We Spread Diseases" (2013). But somehow they didn't end up on that album.
VCPS have just finished in the studio, with a bunch of new songs, which they hope to be able to get out at the end of this summer. That's why they feel that it is about time to get this two other songs off from our conscience before presenting anything new.
1.    ALL OVER THE INTERNET
2.    OUT OF CONTROL
The second track can also be found on the 7" vinyl version of the single "I Hate Your Band" from last year. But the first track, which they also have filmed a video for, have not been released until now.
The single will be released on Friday the 23 of May under the shortened name of VCPS.

Bandinfo:
VCPS consists of four boys that have been playing together since the fall of 2007. A bunch of demo discs has been spread around the globe and in late 2010 they released their debut album, Restless, Young, Hungry and Free, on cassette tape(!?). It received a lot of attention due to the outdated carrier format. The album was later released on CD by Italian label Street Symphonies.
In 2013 the album We Spread Diseases was released by the bands self-founded label, Dangerous Rock Records, accompanied by a 7inch vinyl single.
Both albums were released using the band name VIETCONG PORNSÜRFERS. Except a lot of shows in Sweden and Scandinavia, VCPS have been wasting their health traveling the roads throughout all of Europe several times. They have appeared on festivals like Peace & Love Festival and Getaway Rock Festival.