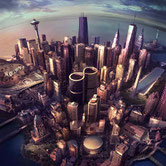 FOO FIGHTERS enthüllen das Artwork, die Tracklist und weitere Details zum neuen Studioalbum!
"This album is instantly recognizable as a Foo Fighters record, but there's something deeper and more musical to it. I think that these cities and these people influenced us to stretch out and explore new territory, without losing our 'sound'."— Dave Grohl
FOO FIGHTERS have confirmed the worldwide release date of the band's long awaited follow up the 4X-Grammy-winning, international #1 Wasting Light: The band's eighth studio album of all-new material will be titled Sonic Highways and will be released globally on Monday, November 10.
The cover art of Sonic Highways has also been unveiled along with a first taste of some of the new music at Foofighters.com.
Additionally, http://bit.ly/sonic-highways is now accepting pre-orders for the Sonic Highways CD and 180 gram vinyl LP. The vinyl album comes in an assortment of nine different covers including eight variants each themed for one of the cities in which the album was recorded: Austin, Chicago, Los Angeles, Nashville, New Orleans, New York, Seattle, and Washington, D.C.
http://bit.ly/sonic-highways will be the only place where fans can order the specific cover – or covers—collect 'em all!— of their choosing. An array of limited edition bundles featuring exclusive collectibles will also be available.
Produced by Butch Vig and Foo Fighters and being released in Germany via Sony Music, Sonic Highways clocks in at just over 44 minutes and is made up of the following tracks:

1. Something From Nothing
2. The Feast and The Famine
3. Congregation
4. What Did I Do?/God As My Witness
5. Outside 6. In The Clear
7. Subterranean
8. I Am A River

Though not a soundtrack album by any stretch, Sonic Highways shares its title with the Dave Grohl-directed eight-episode HBO series described by Grohl as a love letter to the history of American music and premiering Friday, October 17 at 11 p.m.. For the album and series, Grohl, Taylor Hawkins, Nate Mendel, Chris Shiflett and Pat Smear wrote and recorded one song in each of these eight cities, delving into the local musical currents: how each region shaped these musicians in their formative years, and in turn the impact those people had on the cultural fabric of their hometowns. All songs feature local legends sitting in, with every lyric written in an unprecedented experimental style: Dave held off on putting down words until the last day of each session, so as to be inspired by the experiences, interviews for the HBO series, and other local personalities who became part of the process.