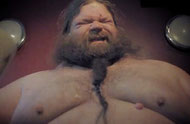 Kinder, die mit Bier aufwachsen? Ich bin erschüttert! Über das Video zu "Jar of Porter" der schwedischen Celtic-Punkband FINNEGAN's HELL: "The Swedish powerlifting successor Johnny Wahlqvist are in the video. Johnny swept twelve pints of porter in the space of an hour and had certainly been drinking even more if not stomach told from. The hamburger plate that he had eaten before suddenly came up with a great speed and the production assistant had to wipe vomit off the floor. The native North American costume in leather, as Johnny is wearing in one of the scenes, has belonged to discus thrower Ricky Bruch, who wore it at the Mexico Olympics in 1968, in honor of North American natives."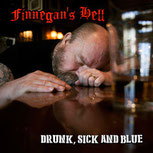 Am 26. September kommt das Album "Drunk, Sick and Blue" auf Heptown Records raus. "It includes the Celtic punk hit "Drunken Christmas", which was voted "best Christmas song of the year" in 2013 by the readers of Sweden's biggest music magazine, Gaffa. And it includes the band's classic version of "The Molly Maguires", which has become an underground hit on Youtube with more than half a million views."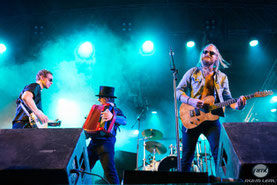 Finnegan's Hell – A brief history lesson
Finnegan's Hell was formed in 2010 simply because there is still a great need for Celtic punk in this world. Prior to starting the band the members were involved in various other groups playing Irish folk, rock and punk. To combine the different elements somehow seemed like a good idea.
After putting together a decent setlist Finnegan's Hell ventured on a club tour in Scandinavia, which was followed by a bunch of festival gigs. The songs went down well with the audience, so the band decided to sneak into the studio to lay down some tracks. An EP was finally released in 2011. It received rave reviews and sold out in no time. More important though, it also meant the possibility for the band to play all over Europe.
"Drunk, Sick And Blue", the band's first full-length album, features original material for the most part, but also includes some traditional songs that translate well into punk. The album has a fuller sound than the old EP, since the line-up now includes accordion.  Finnegan's Hell has always stayed true to their own sound, and has been described by The Irish Times as a band representing "the new wave of European Celtic punk".