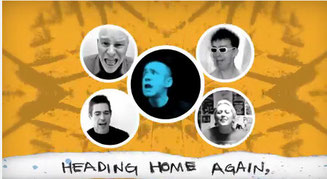 Goober Patrol haben eine neues Video am Start. "That's The Point" - ist vom aktuellen Split Album mit 7 Day Conspiracy (grünes Vinyl, LP, CD), das auf Bomber Music erschienen ist. Das Besondere am Video und am Songs ist die Liste der mitwirkenden PunkmusikerInnen, "an all star cast from the worldwide punk rock scene" und die zwei unterschiedlichen Versionen in Orange und Blau (Hintergrund). Hier erst einmal die Gästeliste:
Blag Dahlia - Dwarves
Jerry A - Poison Idea
Jesse Wagner - The Aggrolites
Keith Minter - Capdown
Olga - The Toy Dolls
Bryan Kienlen - The Bouncing Souls
Tim Smith - TV Smith and The Adverts
Dean Jones - Extreme Noise Terror and Raw Noise
Rossi Alexander - Accion Mutante
Will Farley - Stay Clean Jolene and Nothing Cool
Duncan Redmonds - Snuff, Billy No mates, Toy Dolls
Trystan O Connell - Lost Cherrees
Mark Bone Boland - The Real McKenzies
Criss Damage - Demented Are Go
Chris Hodson - Project Mork and Mustard City Rockers

Über die Hintergründe zum Song berichtet Vocalist/Guitarist Simon von Goober Patrol:
"What's punk? Who's punk? When was punk? They've sold out. It's too metal. It's too oi. They're just pop punk. They're too political. It's too commercial. You're too young to remember what punk was. You're too old to understand what punk is. They're just a goth band. Better than being a ska band. They're all hypocrites … aaarrggh… make it stop. Here's a thought, punk is just about having a load of great mates scattered to the four corners that see the world pretty much as you do. With a few exceptions, it's a refuge from the misogyny, homophobia, racism, and social cleansing of the everyday world. It's a refuge from UKIP, the EDL, Britain First, and all the other Islamophobic, anti-Semitic unpleasantness that seems to be gathering pace across Europe at the moment. And it's a refuge with a great soundtrack. Most of all, it's about knowing that whenever you meet up you can crank up the music, party, have a laugh, and be safe in the knowledge that you're not in a room full of bigots and t***s … that's the point. Here's our video."

Hier nun die Musik und das Video in Orange:
Und ja, "I can feel it coming!"