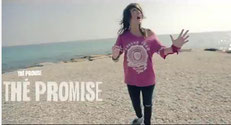 Italian Alternative Punk Rockers, OVER, have released the first single, 'The Promise', from their debut album, 'Is This Growing Up?', which is released worldwide on, Monday 20th April.

The Promise, encapsulates all the sounds and innovation within the album, with very catchy melodic lines, that include harder and incisive sounds expressed throughout the track. The track tells the story of, vocalist of the band, Linda Battilani, passionate and determination to be in a band, and how a friend made her promise to fight to achieve her dream and to believe in herself, giving a positive message, that dreams do come true.
OVER is a five-piece female fronted alternative pop/punk-rock band from Italy, who's sound is characterized by different sounds that range from post hardcore/scream to pop-rock. After an extended period of live shows in 2014, that consisted of just short of a 100 gigs throughout the year, the band is getting ready to release their debut album 'Is This Growing Up?' (20th of April / UK & Worldwide), with another packed live schedule to support the release, seeing the band tour the UK for the first time in April.