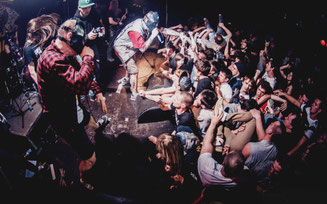 New music video from the fresh album of Siberian thrash brigade.

Siberian Meat Grinder is a  thrash metal punk juggernaut from the depths of Siberian Hell, powered by graffiti bombing, skateboarding and barbaric mosh!  SMG plays fast and adrenaline-charged crossover thrash blended with rap, power metal, doom, stoner rock and other genres.

The band's highly energetic recordings, insane shows and intense touring allowed SMG  to share the stage with the bands like Agnostic Front, Terror, Deez Nuts, Born From Pain, Power Trip, Skeletonwitch, Obituary, Sodom, Slayer and perform at such festivals as Resist To Exist, Rockstadt Extreme, Fluff Fest and Brutal Assault. In 2015 the band was signed by one of the Europe's longest existing punk/hardcore bookings - Destiny Tourbooking. Get ready for the Siberian thrash-madness in your town and praise the Bear-Tsar!

The record:

Dirty Six Records & Destiny Records present an ultimate release of Russia´s thrash metal punk maniacs - both LP and Digipack versions include the two debut EPs of the band: "Hail To The Tsar" and "Vs The World" and a bonus track, recorded by SMG together with Russian ska-punk legends Distemper. 11 tracks of unstoppable crossover thrash mixed with punk, power metal, doom and even rap will take you straight to Siberian Hell, ruled by the mighty Bear-Tsar! Digipack also includes a booklet with lots of photos and art.

History:
Siberian Meat Grinder was formed in 2010 by the former members of different Russian punk, hardcore and rap bands, including such prominent Antifascist acts as What We Feel, Razor Bois and Moscow Death Brigade. Siberian Meat Grinder plays its own unique blend of crossover thrash, rap, power metal, doom and other genres. The lyrics, art and music videos of  SMG are heavily inspired by the underground street culture, including skateboarding and illegal graffiti, as well as by the universe of the band's mascot - the Bear-Tsar. The band played two big European tours and numerous shows across Russia and Europe. SMG has released two EPs "Hail To The Tsar" (2012) and "Versus The World" (2013).