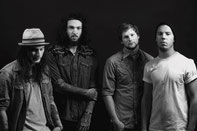 4 young passionate musicians. Thousands of miles across the globe. A lot of shitty shows, but many great ones. Blood, sweat & tears. Lots of promises & dreams. A couple drunken silly things.
This is The Hunters. This is ART ELECTRIC.

Everything started in a basement of Quebec City, Canada, 8 years ago when the boys where still teenagers playing sloppy punk jams all night. Quickly, they got in a rusty van and left home without looking back. As of today, they played more than 300 shows on both sides of the Atlantic Ocean and performed in events such as the Vans Warped Tour, The Fest & le Festival d'Été de Québec. No doubt they're pinching themselves when they think about how far they have come. The motto of the band is simple: Never back down. No regrets. No surrender. Life always puts pressure on you and tries to hold you back, but these 4 dedicated young men have one thing that makes them breathe: music. They put everything they got in it and it's on a stage that it shows. In fact, the band has earned quite a reputation for their intense live performances that leaves nobody indifferent.
In 2012, they released the dark, but hopeful "Promises", a mature and honest record that took everyone by surprise and got them comparisons with bands such as Rise Against and Against Me!. Two years later, they drove all the way to the Windy City to work with acclaimed producer Matt Allison (Alkaline Trio, The Lawrence Arms, The Menzingers) on its follow-up. The result: "Art Electric" captures both the raw power and touching sensibility of the quartet. The band describes the recording process of the album as an amazing experience where they let loose and made no compromises on their sound.
Now more than ever, The Hunters juggles with their very diverse influences ranging from heart-on-the-sleeves folk to blazing rock n' roll to craft an unique brand of punk rock that is catchy and fierce.