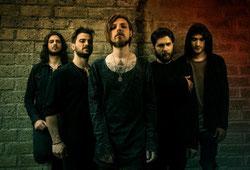 Heute haben HOPES DIE LAST ihre neue Single und passend dazu ein Musikvideo veröffentlicht.
 "In 2008, they were able to break into the post-hardcore scene with the release of the EP Your Face Down Now. Thanks to their new album, the band sang in Germany, England, France, USA and Japan. The EP contains six songs and an acoustic bonus track for Japan, one of which ("Call Me Sick Boy") was re-recorded for Hopes Die Last's debut album.

In August 2009, the band released the first full-length album, called Six Years Home, the record contains ten songs. One music video for Some Like it Cold was released in promotion of the album in November, the second video was Johnny's Light Sucks, released in October 2011.
 In January 2010, the band leaves for the UK tour with Attack Attack!, then proceed with further dates in Europe, East Europe and Russia. In 2010, the band was in a Tour for Italy and other countries. The cover of the Katy Perry's song, Firework was released in March 3, 2011, on MySpace. The second Hopes Die Last's album contains this song.
 On February 14, 2012 the band released the second album "Trust No One" With the singles Unleash Hell and Never Trust the Hazel Eyed and Keep Your Hands Off (feat.NEKSO) released on Jan/Feb 2012.
 Continuing on into 2014, Hopes Die Last is now working on their fourth studio album. Hopes Die Last will be touring during December 2014 for 2 weeks across the United Kingdom and Mainland Europe with United Kingdom's own hardcore / metalcore band, Continents and also will be making appearances at festivals across Europe winter 2014.
2015, Hopes Die Last will be working on two types of albums, and this year will mark their 10th anniversary of being a band and this follows with a new line-up with welcoming Yuri Santurri on Bass and Danilo Menna on Drums."