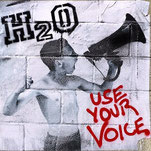 It's been seven years since the release of a proper full-length album from H2O (2008's critically-acclaimed Nothing To Prove). The band's immensely anticipated new album, Use Your Voice, will finally see the light of day on October 9th, 2015 from Bridge Nine Records. Bassist Adam Blake commented, "Nothing to Prove was the record we really found our niche, where we were really like, 'This is H2O. This is what H2O should be… this is the spirt of the thing.' We felt like a brand new band. We felt excited." He continued, "It's nice, seven years after Nothing to Prove, that we can capture those feelings again with this new record."
Recorded once again by a dream team of Chad Gilbert (Producer, Nashville,who recorded vocals) and Paul Miner (Engineer, Orange County, CA ,who recorded music), Use Your Voice is 11 songs of high-energy, high octane melodic hardcore punk that is sure to please any fan of the band's impressive back catalog (which includes their 1996 self-titled debut, 1997's Thicker Than Water via Epitaph, 1999's F.T.T.W. via Epitaph, 2001's Go via MCA, and landmark 2008 release Nothing To Prove via Bridge Nine) and modern punk in all shapes and forms. On this new album, frontman and lyricist Toby Morse  continues to deliver his direct and personal manifestos, with subjects spanning fatherhood ("Father Figure"), romantic relationships ("True Romance"), music fandom ("Popage"), social media philosophy ("#NotRealLife") and more.

Check out a video for the first song to surface from Use Your Voice, titled "Skate!", now on YouTube. For this video, the band reconnected with longtime friend and director Joseph Pattisall, who also directed their videos for "What Happened?" and "Nothing To Prove" which have over 2 million combined views on YouTube alone. The new video for "Skate!" utilized 30-year-old-footage of Toby skating as a teenager in St. Mary's County Maryland and was put together as a passion project just for fun and to give fans a sample of the new record. "Skate!" was filmed over the course of several days at Hurley HQ, Brooklyn Projects, and Vans Skate Park in Orange, CA and features professional skateboarding legend Steve Caballero and Rob Mertz as well as cameos from countless other friends and family of H2O.