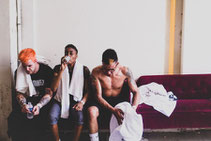 Birmingham noise-punk trio YOUTH MAN are pleased to reveal the video for brand new track 'Pigs' which was directed and filmed by long term friend of the band Chris Jackson, who also created the videos for previous singles Heavy Rain and Skin videos.

The news comes ahead of their forthcoming tour dates supporting Adam Angst in the EU next month alongside Cologne quartet KMPFSPRT, before the band return to the UK for an extensive run of dates with Tigercub in November.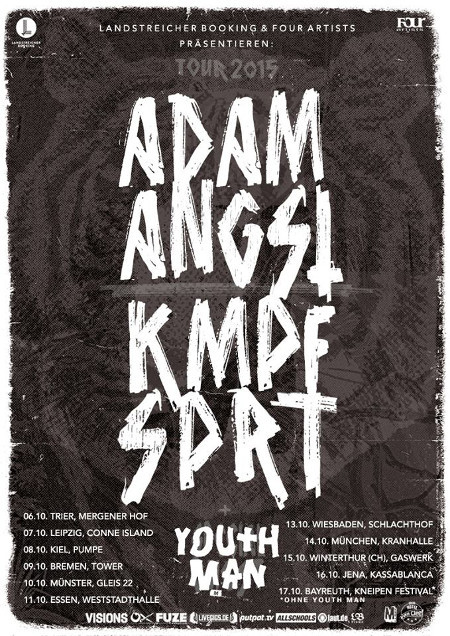 You can download the track for free from their official bandcamp page.

"This was probably our favourite video to film so far" says drummer Marcus Perks "I found yet another excuse to get my body out. We just got to make a mess and be a bit sadistic for a few hours. The guy in the chair is Ike, who produces most of our music. He was in the Skin video too, and it's his fist in the Joy video that smacks us in the face. We wanted him to throw up but clearly he is a monster. We managed to force feed him about 15 burgers, one after the other, before he started to choke cos the burgers were so dry. It got pretty intense. In retrospect we should've got cheeseburgers so the cheese added some lubrication to the situation."

Fresh from a summer run of festival appearances including Leeds & Reading Festival, Hevy Fest, Montreux Jazz Festival and Wickerman in support of their latest EP 'Hill of Knives', this caustic and visceral punk trio are out to defy conventions, perceptions and expectations of what makes a modern punk band.

Their dedication to presenting an honest and undiluted version of their music has led to them charming critics and audiences alike, with the new EP stacking up critical praise from Rolling Stone, Alternative Press, BBC Radio One, NME, Clash Magazine, Artrocker, Drowned In Sound, Rock Sound, DIY and many more.

October 2015 EU Tour Dates w/ Adam Angst + KMPFSPRT:
6th October - Trier, Mergener Hof
7th October - Leipzig, Conne Island
8th October - Kiel, Pumpe
9th October - Bremen, Tower
10th October - Munster, Gleis 22
11th October - Essen, Weststadthalle
13th October - Wiesbaden, Schlachthof
14th October - München, Kranhalle
15th October - Winterthur (CH), Gaswerk
16th October - Jena, Kassablanca