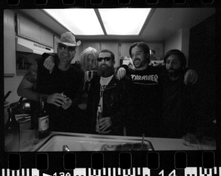 Lucky Scars–which features Jon Bunch (Sense Field/Further Seems Forever, War Generation) and Nik Hill (Ignite)–will release their new EP, 'Rock and Roll Party Foul,' on December 4 via Spartan Records. In anticipation, the band has teamed up with Revolver to premiere their new song, "All Lies."

Vocalist Jon Bunch, a.k.a. Johnny Scars, says, "John Lennon said it in his song, 'Gimme Some Truth.' Lee Ving said it in Fear's song, 'Foreign Policy. I'm saying it in Lucky Scars' song, 'All Lies.' You can listen, but you don't have to believe anything. Now get me a beer or pour me a shot."

Guitarist Nik Kill added, "The music and lyrics of 'All Lies' left me no choice but to strangle my guitar, punching the clock day in and day out, I become free in the days writing these chords and strained verses…a cornered animal fucked by the world outside my windows, I carry only these songs in my hate and in my heart."

The 'Rock and Roll Party Foul' EP was produced by Jim Monroe (CJ Ramone, The Adolescents) and mastered by Stephen Egerton (Descendants, All, Flag).

With songs about a female assassin ("Bandita"), fear of the government ("All Lies"), breaking the law ("Rules and Laws"), and killing people in positions of power ("Vampire"), Lucky Scars is sure to bring delight and enthusiasm to all who live comfortably in paranoia.

Using the boy band analogy to describe Lucky Scars, Nik Kill (lead guitar) is the cute one. Hailing from the dark streets and dirty back alleys of San Jose, CA, he dropped out of high school to dedicate his life to rock 'n' roll and has never looked back.

Tall, lovable Johnny Scars (vox) has never turned down a chance to party or rock. He's the A. J. McLean of the band — before A. J. got sober. A cross between a drunk teddy bear and a bull in a China shop, Johnny wants nothing more than to rock with you, not against you.

Craig Rage (drums) is the mean one. Uncomfortable in crowds, he has offered up no personal information, only grunts and middle fingers.

K.D. Wish (guitar) is the quiet one. An avid outdoorsman and motorcycle enthusiast, he also collects guitars and weapons. His latest home improvement project is building a bomb shelter.

Don Jose Cuervo de los Burros (bass guitar) is the smart one. He lives and breathes rock 'n' roll. Don Jose Cuervo de los Burros is the head counselor at a rock 'n' roll fantasy camp.