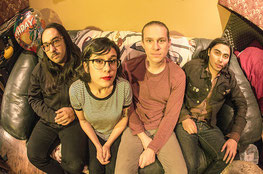 Sheer out of Simi Valley publish their debut LP, Uneasy, on November 20th.
Lead vocalist Gina tells about the title track is "about being around someone (even one you feel the most comfortable around), or being in public and feeling out of place and shameful. You become paranoid and self-conscious about your looks, your body language and general existence and end up being in your own head rather than in the moment. Overall, the song is about a battle with social anxiety that at times seems impossible to overcome."


Part shoegaze, part 90s-alternative and grunge, Sheer formed in the summer of 2014, quickly becoming a staple in the greater LA scene,
The band channels an earnestness redolent to that of mid-90s emo and indie rock, while primarily occupying a reverb-induced space suggestive of Galaxie 500 and The Jesus And Mary Chain.
While Uneasy introduces the band as one with a kinship for catchy, pop-informed melodies, their focus relies most heavily on building evocative and emotive soundscapes.