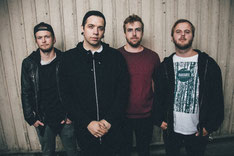 On Friday October 16th, Redfield Records' latest signing Cedron released the official music video for its brand new single "Time Heal My Wounds".

"Blistering passion, addictive riffs and crushing vocals filled with emotion and political, yet personal messages."

The Söderhamn based modern hardcore four piece can be considered one of Sweden's most hardworking bands. Since the release of its debut record "Chased By Shades" late 2013, Cedron has toured over 30 countries including the United Kingdom and Australia, creating a fan base all over the world. With a new full-length album coming out early 2016 through Redfield Records, Cedron will be constantly hitting the road again starting in March 2016. Further plans will be announced closer to their respective dates.