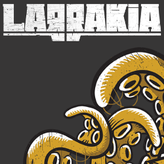 Disconnect Disconnect Records are proud to introduce one of the UK's best new melodic punk / skatepunk bands, York's Larrakia. Drawing on a multitude of influences blending power, groove and melody with a love of the Punk/Hardcore scene, Larrakia smash through songs in their high energy, razor sharp live shows, to show they're definitely among some of the strongest skate-punkers in the UK.

Spring 2015 saw Larrakia break into the UK & Europe live circuit, the introduction of a studio recording for their debut track "Cruel To Be Kind" and a D.I.Y. music video for their newest song "Feel The Burn".
 
On to autumn 2015...The band are welcomed into the Disconnect Disconnect Records family with open arms, for the digital release of their debut self titled E.P. To accompany this Larrakia introduce a brand new music video for their third and final track off the release, "For What It's Worth". They are now focusing on filling up their live roster for 2016 with plans for UK & European tours and a second E.P. to be released early in the year.

Larrakia's self titled debut EP will be available from the Disconnect Disconnect Records bandcamp page and all major digital stores from Fri 30th October 2015.