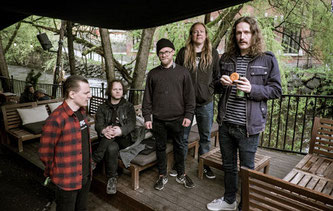 Norwegian grindcore innovators BEATEN TO DEATH have just premiered a new video for the track "Home Of Phobia" from their latest album "Unplugged".

The idea of mixing metal and choreographed dancing is not a new one — but, like rap metal, it's generally something which is better in theory than practice. For every tasteful Ballet Deviare, there's a garrish In This Moment or Limp Bizkit who can't resist the urge to indulge the lowest-common denominator fans of both mediums.

Oslo's Beaten to Death, though, more than pull off the concept in their new video for "Home of Phobia." It should go without saying that the spastically vitriolic song will kick you in the teeth, but the choreography of Thea Bay (who also co-stars with Dag Rune Sjøli) brings the music to life in ways new and unexpected, and it's been filmed perfectly, in one fluid take, by Per Georg Krokstad. 
The song appears on Beaten to Death's Unplugged, which is out now on Mas-Kina Recordings.