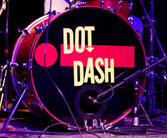 DOT DASH haben mit "Rainclouds" einen neuen Song zum Download angeboten. Dieser ist Teil des Albums 'Earthquakes & Tidal Waves', welches bereits im März auf THE BEAUTIFUL MUSIC veröffentlicht wurde.

DOT DASH ist eine Pop Punkband aus Washington D.C. mit Mitgliedern aus Ex-JULIE OCEAN, MINOR THREAT, YOUTH BRIGADE etc. Bislang hat die Band 4 Alben veröffentlicht.
Die Washington Post schrieb über die Band:

"Everything we've ever read about Dot Dash plays up the group's collective resume: Singer/guitarist Terry Banks was in St. Christopher and the Saturday People before teaming up with bassist Hunter Bennett in acclaimed indie-rock band Julie Ocean; guitarist Steve Hansgen played bass for hardcore legends Minor Threat and Government Issue, and then the mod group Modest Proposal; drummer Danny Ingram co-founded harDCore band Youth Brigade. Very impressive. But we're more interested in the music, a retro cocktail that recalls the yearning indie-pop of Sarah Records; the '80s neo-Byrds jangle of R.E.M., Orange Juice and other seminal college radio artists, and the tight, throbbing basslines and slashing guitars that evoke the Jam and the Clash."