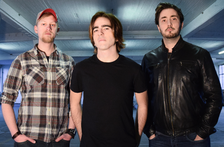 TIDALWAVE veröffentlichen das Video zur neuen Single "1992". Die Single ist die erste Aufnahme der Band, seit ihren Umzug letztes Jahr aus den USA nach Deutschland.
"1992 kam mir während meiner ersten Nacht in Berlin. Ich war gerade um die halbe Welt gezogen und stand vor der Herausforderung, komplett neu anzufangen" sagt Frontmann Dean.
TIDALWAVE is a bit of an anomaly in the world of rock today. Born from the brain trust of Dean (Vocals/Guitar), his travels have seen the band originate in the UK, grow in popularity in the U.S. and pave the way for alternative metal in Berlin, Germany. The band has made a big impact in the past year: they've been featured on various radio shows, music publications, and many unsigned band spotlights. Their self titled EP has drawn comparisons to bands like Chevelle and Deftones, and has been called "an excellent debut from the band" (rockandrollcreations.com) and "an edgy, yet melodic musical monster" (alternativenation.net). It was recorded in Winston Salem, NC (USA) by Jamie King (Between The Buried And Me, For Today).
Now firmly based in Berlin, and joined by Nils (Drums) and Marc (Bass), the band's infectious songs will burrow their way into your subconscious in no time at all. With heavy riffs, thumping drums and melodic vocals, TIDALWAVE have an instant appeal that fans of heavy alternative rock will love.