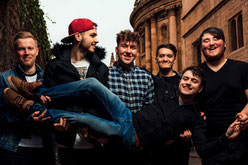 Keeping in theme of forthcoming release 'Homemade Hero', Oxford Pop Punks Better Than Never have unveiled their superhero based video for 'Back Of The Line, Kid'.
Vocalist James Harris comments on the piece: "This is our video for Back Of The Line Kid, that sees us lads goofing around trying to audition to be heroes. But alas, there is one other contender we didn't expect. Who will win in this battle of brains, brawn and... denim?"
Having finally crafted a set of songs primed for the full studio treatment, the sextet booked time at the hallowed ground of The Ranch Production House in Southampton, to set about recording what would become their debut E.P proper, Homemade Hero. "We had 4 specific songs in mind that we wanted to record, but as time grew closer, it dawned on us that actually, we didn't want to record those songs at all," recalls guitarist/vocalist Will; "So, a couple of months before we went in we got together at James' flat and started to retrack ideas and parts. Over time we settled on 3 new ones we really dug, and a re-recording of a previous demo track."
A little down to the wire perhaps, but Homemade Hero sounds far from cobbled together. Built upon an easycore inspired foundation of meaty guitars and grooves, Better Than Never pepper their sound with a layered dual vocal approach reminscent of Four Year Strong and vintage Taking Back Sunday, James and Will's distinct vocals complimenting eachother across cleverly crafted hook lines.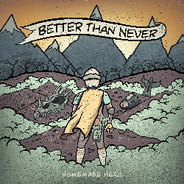 With lyrical themes ranging from teen romance gone awry to, erm, Prison Break, Homemade Hero has character in spades, and will surely see Better Than Never making their mark on the UK's thriving pop punk scene. "Sharing emotions is a great way to not feel alone in the world," remarks James, "For me, there is nothing better than being able to express emotion through music, and being able to let people know that others might feel the same way that they do. I've gained so much from my favourite bands, so for me the band is an opportunity to pass that on."

Better Than Never Release Homemade Hero on February 19th 2016 via Fox Records. Pre-order here: http://apple.co/1Rpceh0