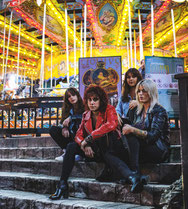 Lizzies, the Madrid based heavy metal band that has managed to quickly build a reputation in the European scene, is proud to announce the inking of a record deal with Sweden's label The Sign Records (Night, Beast!, Throne Of Heresy, among others) to release their much anticipated first album, scheduled on April 1st. The title of this first effort will be 'Good Luck' and it features 9 songs recorded and produced by Ola Ersfjord (Dead Lord, Tribulation, Primordial) at Moontower Studios in Terrassa and Cuervo Studios in Madrid during August 2015. Mastering was handled by Magnus Lindberg.
Patricia, guitars, states: "'Good Luck' is the result of an intense year of growth and evolution together. We were looking for something fresh and catchy, something that lasts! Recording it was as natural as possible - no metronome, playing together...- which was an amazing experience we will never forget thanks to our producer, Ola Ersfjord"
 
Additionally, the band has started to announce their first summer shows with their appearance at popular Swedish festival Muskelrock, which will take place on June 4th and 5th, and where they will be sharing stage with bands such as Diamond Head or Rock Goddess.
 
It's been 6 really intense years since Lizzies' inception in 2010. Their particular sound, which blends the aggression and melodic edge of NWOBHM with a punk attitude, helped them building an reputation that has taken them to Metalheadz Open Air and Headbangers Open Air (Germany), Muskelrock (Sweden) or Live Evil (England).