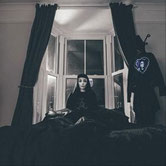 The continuing rise of Southampton goth-punks CREEPER continues unabated with the February 19th release of the new EP 'The Stranger'. Their second release for Roadrunner Records UK, 'The Stranger' follows the critically acclaimed 'The Callous Heart' EP which is now entirely sold-out on vinyl.
In addition to the success of 'The Callous Heart' EP, CREEPER's highlights of 2015 included tours with Frank Carter & The Rattlesnakes, The Misfits, Funeral For A Friend, Moose Blood and Twin Atlantic; and they also burst onto the festival circuit at Download, the Vans Warped Tour UK, 2000 Trees, Hevy and Camden Rocks.
Produced by Neil Kennedy at The Ranch, 'The Stranger' immediately establishes a theatrical air of foreboding with the mood-setting opener 'The Secret Society'. The band's love of The Misfits, Alkaline Trio and The Damned is very much in evidence throughout the pop-punk attack of 'Valentine', while their inherent sense of energy is infused with the spirits of Meat Loaf and Jim Steinman in 'Black Mass'.
The EP's closing two tracks really highlight  the band's growing maturity and versatility: 'Misery' Is stripped back to a soul-baring vocal/guitar duet before exploding into its climactic finale, and the mid-section of 'Astral Projection' focuses on Gould's impassioned delivery before a final race to the finish line. 
'The Stranger' EP will be available on 12" vinyl and digital download formats, and can now be pre-ordered from iTunes (http://po.st/StrangeriTunes) as a special package from the Roadrunner Records (http://po.st/CreeperRRStore) store which also features an exclusive new t-shirt design.