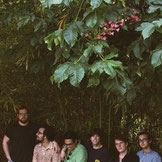 Charlotte, NC post hardcore sextet Girl Pants will release their new 'Come' EP on March 8 via Flannel Gurl Records.
A track off the EP titled "Smear Campaign" is premiering on New Noise.
Drawing influences from bands like Fugazi, mewithoutYou, and Self Defense Family, Girl Pants previously self-released two EPs in 2014, that caught the attention of Flannel Gurl Records. The cassette version of 'Come' includes the self-released EP's.