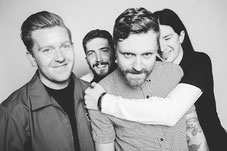 Lincoln indie punks Bad Ideas are pleased to reveal a run of European tour dates across Germany, Belgium and the Netherlands.

Beginning with two shows in Belgium before a further 8 shows across Germany and the Netherlands, Bad Ideas will be joined by Tom George, AKA - The Lion & The Wolf for their first full-band appearances since late 2014.
Borrowing their name from the lyrics of an old Alkaline Trio song, Bad Ideas is a British punk rock group that owes as much to the youthful swagger of 90's Brit-pop groups and guitar led indie bands as it does trans-atlantic punk rock.

Raised in the oft-forgotten Roman city of Lincoln, England, Bad Ideas have been grinding away at their music since 2012, hustling their way through shows across the UK, Germany, Holland, Belgium and Italy sharing stages with the likes of Into It Over It, Joyce Manor, The Flatliners, Tellison and Beach Slang as well as being invited to play festivals such as Groezrock, Out Of Spite and Deadpunk.

After the success of their first two albums, Murder of Gods (2012) and Compromise (2013) founder Sam Cook and co sought the help of producer Jamie Lockhart (The Cribs, Pulled Apart By Horses) to record 'The Better Parts of You' an EP which would mark a change in direction for a project which had up until this point been driven by frontman Sam Cook's acoustic guitar. 

Recorded entirely in analogue and mostly live, the EP would earn the band comparisons to the likes of Manchester Orchestra, Brand New, Hot Water Music and interestingly more indie orientated bands like Manic Street Preachers, The Replacements and the Gin Blossoms. The EP also attracted the attention of Less Than Jake drummer, Vinnie Fiorello who subsequently released the EP on this American imprint, Paper + Plastick records.

With Paper + Plastick behind them and with the help of German label Uncle M, the EP saw the band appear in various respected publications such as Kerrang, Hit The Floor, New Noise and Punktastic as well as receiving air and video play on the BBC, Fuse TV and MTV Germany. Bad Ideas are currently working on their follow up third full-length album which has been cited by Already Heard as one of their 'Top 25 most anticipated albums of 2016'.
Live:
24/03- Hasselt, De Linck
25/03 - Merksplas, Zig Zag
26/03 - Tilburg, Bouwplaats
27/03 - Wiesbaden, Kreativfabrik
28/03  -Trier, Exhaus
29/03 - Kassel, K19
30/03 - Zittau, Emil
31/03 - Berlin, Cassiopeia
01/04 - Oberhausen, Druckluft
02/04 - Bielefeld, Plan B