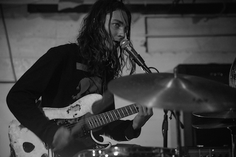 Clarke Howell ist ein Multiinstrumentalist und zeigt dies eindrucksvoll in seinen Liveperformances bei denen der Künstler zugleich singt, Gitarre und Schlagzeug spielt.
Auf seiner Europa Tournee präsentiert er sein aktuelles Album: "The Well Rounded" auch für ein paar Shows in Deutschland und der Schweiz (siehe Tourdaten unten).
Clarke and the Himselfs is the sonically extended portion of Clarke Aleksandr Howell. What originally began with multi-track records, transmographied into the full band it is today, with Howell using the drums, guitar, his voice, and no loops, creating catchy, dark, powerful sounds that are supported ultimately by the gravity of the songs themselves.
The Himselfs are regularly on the road and have extensively toured the South, Midwest, and East Coast. Clarke and the Himselfs opened for Built to Spill on two different, month long, North American tours. He has played with the likes of Colleen Green, No Bunny, Paleo, Sad Horse, La Luz, Naomi Punk and Many More.
Their latest release, The Well-Rounded Clarke and the Himselfs is the cumulative LP debut from Clarke and the Himselfs. Recorded in Portland, Oregon on half inch tape at Fluff and Gravy in early spring of 2014. Engineered and mixed by David Strackany (Paleo). Mastered by Mell Dettmer (Sunn O))), Boris, Earth). It is being released under Brett Netson's Scavenger Cult (Caustic Resin, Built to Spill) Featuring brand new cuts as well as re-done classics, all recorded, mixed, and mastered to audiophile quality.
Live:
11.4 - Prague, CZ - Roxy
13.4 - Bremen, DE - Litfas
14.4 - Berlin, DE - Sage Club
15.4 - Russelheim, DE - Waschbar
16.4 - Basel, CH - Podium
17.4 - Lausanne, CH - La Datcha
18.4 - Zurich, CH - A.C. Kupper Modern
19.4 - Zizkov, CZ - Vlkova 26
20.4 - Warsaw, PL - Eufemia
21.4 - Bydgoszcz, PL - MOZG
22.4 - Poznan, PL - Las
23.4 - Gorzow Wielkopolski, PL - Centrala
24.4 - Wroclaw, PL - Neon Side
03.5 - London, UK - The Good Ship