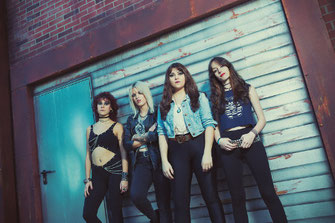 The release of the first studio album by Spanish LIZZIES is drawing nearer; 'Good Luck' will be released on April 1st via The Sign Records and therefore the band is now launching the first promotional video clip for the song Mirror Maze.
The clip was directed by the agency Holy Cuervo, who already worked on their previous clip for "Viper". The band comments as follows;
"In 'Mirror Maze' we wanted to project the feeling of being out of place, lost in a labyrinth full of mirrors, not being able to know between fiction and reality or if you are gonna be able make your way out of it. It was important to get that same feeling in the video and we believe it ended up turning really good. We had a great one making it and feel super happy about the result, hope you like it as much as we do!!"