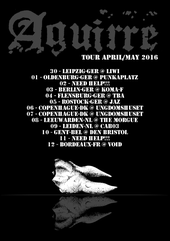 Aguirre is five-piece sludge/hardcore band from Bordeaux. Their social freedom visions on world in anarchist movement and great lyrics.
 In 2006 they did their first release (3 songs) and made awesome material as for start. From every next release they really grow up.
That fact the group make this huge pack of terrible riffs and growing hardcore sound, including fight and freedom lyrics with purposes to change this fucking world, make them one of the favorite sludgy band in France.
AGUIRRE Tour April/May 2016
30 - GER, Leipzig@ Liwi
01 - GER, Oldenburg@ Punkaplatz
03 - GER, Berlin@ Koma-F
04 - GER, Flensburg@ TBA
05 - GER, Rostock@ JAZ
06 - DK, Copenhague@ Ungdomshuset
07 - DK, Copenhague@ Ungdomshuset
08 - NL, Leeuwarden@ The Morgue
09 - NL, Leiden@ Cabo3
10 - BEL, Gent@ Den Bristol
12 - FRA, Bordeaux@ Void