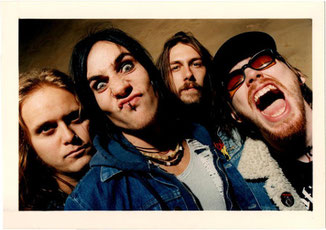 One of this year's greater newsflashes in the Swedish Music industry is the sensational reunion of The Hellacopters who will, in celebration of the 20th anniversary of their debut album "Supershitty To The Max!", play a one off exclusive show at Sweden Rock Festival!
The band will release an exclusive vinyl 12" /JUNE 3rd.
"My Mephistophelean Creed" & "Don't Stop Now": 2 tracks written by the band back in 1996 but never made it to an official recording.

Recorded at Nicke Andersson's "Honk Palace" studio earlier this year, it shows a band who knows exactly what it's all about. A band that have unshakeable faith in creating magic, pushing boundaries and challenging themselves.

Carl Schewen of Sound Pollution puts it this way:
"Ouff! When I first heard that The Hellacopters will be celebrating "Supershitty To The Max!" at the Sweden Rock Festival, I thought someone was pulling my leg, but it turned out to be true after all! Later on when I was asked to put out this 12" I was as psyched as I was 20 years ago when Nicke first asked me if I was interested in releasing their first album."
Curious? Tune in to (Swedish radio) P3 Musikguiden tonight at 22.00 where Håkan Persson will air "My Mephistophelean Creed" for the very first time!
Release date June 3. One week later (June 10) the original line up will kick it out on the Lemmy Stage at the Sweden Rock Festival!