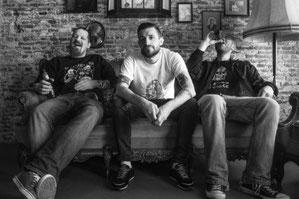 Manchester thrash-punks Revenge of the Psychotronic Man are ruddy, bloody pleased to announce that their third album, the Alan Partridge homaging 'Colossal Velocity', will be released via TNSrecords on 15th July 2016 – Jurassic Park!
RPM describe the new record as "having all the speed and energy people expect, but with some new twists and turns, with lyrical content that ranges from changing the world through one minute songs with indecipherable lyrics, to dismantling a Corby trouser press, space travel and former footballer Niall Quinn."

Originally formed in 2004, this hard-living, hard-playing trio have since drunk their way through countless gigs and tours all over the UK and mainland Europe with over 500 live shows under their belt. Their 2009 album, 'Make Pigs Smoke', received rave reviews from Big Cheese Magazine, Razorcake and many more with 2012's follow up album 'Shattered Dreams Parkway' leading to a future BBC Radio 1 Session at Maida Vale for the Radio 1 Punk Show with Mike Davies. A slew of EP's and splits was capped off most recently by 2014's 10 year anniversary 7", which included two new recordings of old tracks and two dance remixes.
Sharing the stage with the likes of Bad Religion, NoMeansNo, Discharge, Subhumans and many, many more over the course of their career, the band are no stranger to tearing up a room of rowdy punk rock fans. In fact, bass player and vocalist Andy Davies is one half of the team behind TNSrecords and is also part of the collective responsible for the mighty Manchester Punk Festival, which just celebrated its biggest and most successful year to date.