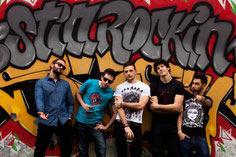 Italian Punk-Rock band Trash'N'Clean, composed of Fabio (vocals), Danny (lead guitar), Mark (rhythm guitar), Marchino (bass and backing vocals) and Mario (drums) released on June 5th 2016 their music video for single 'Thousand Daggers', taken off their upcoming EP 'Wetness Delivery', set to be released on June 16th.
Bandinfo:
It was spring 2014, Milan, Italy. Mark and Danny started randomly recording guitar riffs in their bedrooms. Little did they know, that was the start of Trash'N'Clean: punk rock attitude, catchy songwriting, and a good balance between idiocy and deep lyrics.
The long-term friends with a common love for music pulled together a full band with Fabio at the vocals, Marchino at the bass and Mario at the drums.
Ready to start kicking ass, they wrote 5 full tracks within a month's time, resulting in their first EP "Mind the Couch".
In cooperation with Bagnoli Bros Studio, the EP was released in December 2014, followed by a series of shows to promote it.
A few months later "Mind the Couch" was largely appreciated by the audience of the Emergenza Festival, allowing the band to go through the selections and play on some of the best stages of Milan; from the Legend Club to the Tunnel, and eventually at Alcatraz, where they won the second prize at the national final.
Following up such an intense time, a new flow of creativity hit the band, leading to the recording of their newest EP "Wetness Delivery" at Golden Factory Studio, set to be released on the 16th of June 2016 through all digital stores.
This marked the beginning of the busiest time for the guys as a band - 2016 was in fact the time when Trash'N'Clean started being an opening band for the events of NoReason Booking.
As if that was not enough, they decided to organise the "LOOK AT THAT Fest", an event gathering some of the best punk rock / pop punk / hardcore bands from Italy in one wicked festival:
Edward in Venice, Why Everyone Left, Thousand Oaks, Nobody Will Care, Leftovers, and even the french band Back Garden Light. The event will be hosted in Milan on the 18th of June 2016.
Fabio, Danny, Mark, Marchino and Mario are
currently working on writing new music and plan on releasing a new single in September!