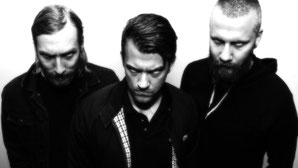 Norwegian crust/metal trio NAG are thrilled to reveal "Mute", the second single from their forthcoming self-titled debut album, which is set for release on September 2nd via Fysisk Format.
NAG (/na:g/) is a punk/metal trio from the Norwegian west coast. Although heavily influenced by the old-school of crust punk, hardcore and metal, they haven't simply recycled the sounds and themes of the past. Instead, they have overhauled and upgraded them. The result is a sound tailor-made for post-social democratic Europe: Dark, hard, primitive, aggresive. And a bit strange.

NAG's place of origin on Norway's west coast is significant. For a long time, this area of Norway was pretty much like the shire in Tolkien's books; peaceful, wealthy and more or less shielded from the outside world. But then came the international oil crisis. For the first time in their lives, the three friends in NAG felt that things might actually not go their way. They even began wondering if maybe they weren't at the end of history after all. Maybe they weren't too different from the nobility of L'Ancien Régime, or the elites of ancient Rome: Rich assholes that history sooner or later would deal with. Filled with doubt and anxiety, singing cheerful punk songs about beer and women no longer felt right. Desperate times call for fucking brutal hardcore punk. NAG was formed.

Their debut album, mixed by Haust's Ruben Willem, shows a band evolving the sound of their label mates Årabrot and Okkultokrati into a behemoth of aggression and weirdness. The album is scheduled for release on Fysisk Format Autumn 2016.