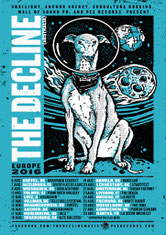 The Decline from Perth, Australia, are to hit Europe this summer for a continent wide tour.
The tour is in support of the release of a Limited Editon 12" splattered frosted clear vinyl pressing of 2011's 'Are You Gonna Eat That?' album, through Pee Records.
Speaking on the upcoming tour dates, Pat Decline said "We've always found Europe to be the most welcoming place to visit, ever since the first time we were contacted after our records were downloaded off a blog site. It blew our minds that people on another continent were listening to our stuff. Our first Europe tour in 2013 addicted me to the idea of touring and just going for it. I was aching to go back ever since and last year we had a sweet time playing punk rock holiday, Brakrock Ecofest and heaps of other rad shows. This year we get to do it again and I can't wait. Bring it!".
Live:
Jul 29 - Bristol, Exchange
Jul 30 - Liverpool, Maguire's Pizza
Jul 31 - Glasgow, Nice And Sleazy
Aug 01 - Kingston, The Fighting Cocks
Aug 02 - Norwich, Owl Sanctuary
Aug 03 - Portsmouth, Edge Of The Wedge
Aug 04 - Manchester, Retro Bar
Aug 05 - London, Veg Bar
Aug 06 - Duffel BE, Brakrock Ecofest
Aug 07 - Hazelbrouck FR, Gratuit-Place de la Gare
Aug 08 - Wiesbaden DE, Schlachthof
Aug 11 - Tolmin SI, Punk Rock Holiday
Aug 12 - Linz A, Auerhahn
Aug 13 - Villmar DE, Tells Bells Festival
Aug 14 - Braunchsweig DE, Funzel
Aug 16 - Aachen DE, Musikbunker
Aug 17 - Nuremberg DE, Desi
Aug 18 - Regensburg DE, Alte Mälzerei
Aug 19 - Hameln DE, Madclub
Aug 20 - Lennestadt DE, Stadtfest
Aug 21 - Amsterdam NL, Sugar Factory
Aug 23 - Livorno IT, Tiki Beach
Aug 24 - Modena IT, La Botte
Aug 25 - Freiburg DE, White Rabbit
Aug 26 - Dusseldorf DE, The Tube
Aug 27 - Gorinchem NL, Podium Gorcum
Aug 28 - Nantes FR ,La Scène Michelet