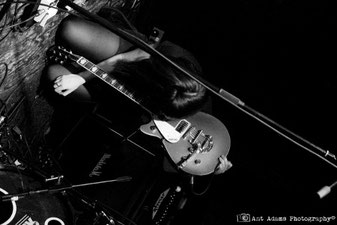 Kamikaze Girls will release their mental-health-awareness-raising new record Sad on 2nd September.
The band are staunch feminists and are all about breaking down social taboos and stigma surrounding mental health, with their mantra "it's okay to be sad" - vocalist Lucinda Livingstone also runs the Ladyfuzz Zine dedicated to women in music which was recently endorsed by Paramore vocalist Hayley Williams on social media.
Taking influence from Bikini Kill, L7 and Sleater Kinney theirs is a vital new voice on the DIY scene that's seen them playing shows alongside Muncie Girls, Pup, The Menzingers, Me Without You, Modern Baseball, Moose Blood, Lemuria, Petrol Girls, Personal Best, Great Cynics, The Winter Passing, Nai Harvest, The World Is A Beautiful Place… and Woahnows, to name just a few.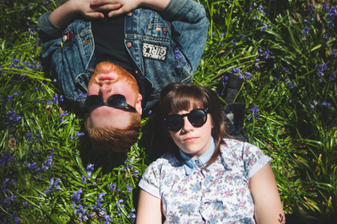 What makes this pair tick? First and foremost, Kamikaze Girls want you to know that it's okay to be sad. Since 2014 the Riot Grrrl duo, consisting of vocalist and guitarist Lucinda Livingstone and drummer Conor Dawson, have used music as a means to challenge attitudes and taboos surrounding mental health. Their aim has always been to show their strength and solidarity to other young people in the same position, through their vitriolic fuzz-rock and to work alongside other bands in the scene to help stamp out gender stereotypes in music for good.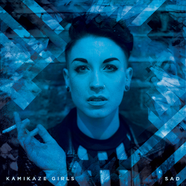 Their forthcoming long-awaited debut EP 'Sad' perfectly marries their noisy, effervescent tendencies and their strong sense of principle. Livingstone's lyrics speak honestly and openly about everything from anxiety and depression to addiction - it's the way in which Livingstone's raw lyrics permeate and shine through the songs so strikingly that make the band stand apart.

Whether it's on tracks like 'Hexes' where they speak of the pains of anxiety "Psychosis, you're messing with my head again / While I'm pulling out my eyelashes you're fast asleep in bed", or on 'Black Coffee' where they delve into the heart of addiction "I found the cure for these aching bones / I'll breathe you when I just can't hold it up",Kamikaze Girls aren't afraid to speak what's on their mind, and are emblazoned with passion at every turn.