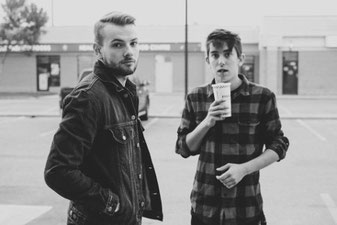 Surf Dads has proven to be nothing short of a workhorse band: originally separated by 2800 kilometres and an entire country, it was through iPhone demos that Surf Dads was birthed, releasing three EP's over the span of three months, and touring relentlessly, including a stint with mid­-fi indie darlings Library Voices.
Their first year saw them play nearly 100 shows throughout North America and the UK, with appearances at festivals such as M For Montreal, Canadian Music Week, The Great Escape, and Liverpool Sound City. With all the miles that lay in waste behind them, SURF DADS has cultivated a live show as razor-sharp as a knife's edge, that will have you dancing and leave you wanting more.

Described as "Weezer on speed," Surf Dads plays fast and loud, often leaving the stage bruised and bleeding with broken guitars to match. Their sound and style is more akin to West Coast acts than those of the Canadian Prairie towns of which they were raised: the summery, watery images evoked by SURF DADS' brand of punk rock—heavy, punishing guitar and drum tones that give way to moments of ethereal psychedelic beauty—are explored as outsiders from the lyrical and musical perspective of their vast, snowy Canadian prairie homeland.