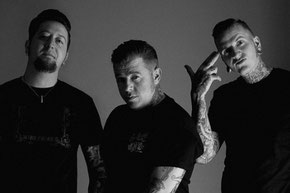 The band is just a couple of days away from heading back to Europe!
Until they get there, enjoy their new video for the title track from their latest EP, "Ship of Fools"!
This was by far one of the best experiences they've had making a video, and the band would like to extend a huge thank you to their friends and family that helped make this happen:
Rudy Smartshit, Sean Hartgrove, Jim Norris, Candies Liu, Italo Ganni, Mike Valdez, Paul Tallon, Terna Mihelarakis, Scott Ferguson, Eddie Suicide, Kaila Klein, Tim Lawrence, Juan Lopez, InkSpired Magazine and the staff at the Hi-Dive….
Live:
15.08. Eisenhüttenstadt, Club Steelbruch
16.08. Hamburg, Pooca Bar (acoustic Brent Loveday Music Solo Show)
17.08. Hamburg, Monkey's Club (w/ Ski King)
18.08. NL - Amsterdam, Winston Kingdom (w/ Sparrow Falls)
19.08. Essen, Panic Room (w/ Fightball)
20.08. Gütersloh, Parkbad
21.08. NL – Eindhoven, Blue Collar Hotel (w/ Sparrow Falls)
22.08. Mannheim, 7er Club (w/ Swedish Surprise Act)
24.08. Gera, Die Manufaktur (w/ Swallow's Rose)
25.08. CZ - Budweis, MC Fabrika (w/ Gorilla BRAWL)
26.08. Weissenhorn, Summer Fest (privat - w/ Gorilla BRAWL)
27.08. München, Kafe Kult
28.08. CZ - Brno, Eleven Club (w/ Bombs from Heaven)
29.08. CZ - Ostrava, Plan B
30.08. CZ - Prag, Klub Buben
01.09. Berlin, Wild At Heart
02.09. Chemnitz, Stadthalle (Rock n Ink Tattoo Festival)
03.09. Strasskirchen, Plutonium
04.09. A - Wien, Viper Room