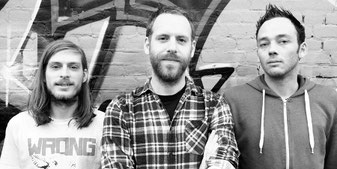 Antillectual is ready to hit the road and present their new songs live after releasing Engage! two months ago. To tease the upcoming tour, the band has released a new music video featuring footage shot at the release show and Punk Rock Holiday.
Filmmaker Claudio Stanghellini documented the Engage! release show and the band's appearance on Punk Rock Holiday, creating a spirited music video from the footage. The video includes Thomas of Strike Anywhere who sings along on the track.
Antillectual can't wait to hit the road with their new songs. The band has started working with The Living Proof Agency (Massendefekt, Mr Irish Bastard) for German dates in 2017. The October chapter of the Engage! tour 2016 looks very promising, bringing the band to 7 countries in 12 shows.
Antillectual Tour Dates:
02.10 DE Wermelskirchen, AJZ Bahndamm
05.10 NL Tilburg, Hall Of Fame
08.10 DE Salzgitter, Forellenhof
12.10 DE Wiesbaden, Kreativfabrik
13.10 DE Nürnberg, Musikzentrale MUZ
14.10 AT Vienna, Seewinkel Noise Factory Festival
15.10 DE Zwiesel, Jugendcafé
21.10 BE Brussels, Garcia Lorca
27.10 SI Ajdovscina, Klub Baza
28.10 AT Pöllau, Club 81
29.10 CZ Prague, Cafe Na Pul Cesty
About Antillectual:
Antillectual from Nijmegen, the Netherlands plays a socially conscious, energetic blend of music. Creating their own unique blend of stolen riffs and borrowed song titles, while carrying the torch for European punk rock beyond their own country and continent.
Living in a world that is coping with conflicts and crises it is time to engage! Critical times call for critical music.
On their full length album Engage!, Antillectual have taken a complete new approach to creating and perfecting their sound. Not only does the band have the best line-up to date, for the pre-production of the new album the band created an all-star team covering the loud music area from left to right, from poppy to obscure. Songs are more fine-tuned than before; even more thought and effort is being put in. Of course there is still that typical Antillectual flavor. Yet, you will find that new toppings and deeper layers have been added, which you will discover after taking some more bites from the new Antillectual pizza. To top it off: Strike Anywhere's Thomas Barnett and BoySetsFire's Nathan Gray make their appearance on Engage!.