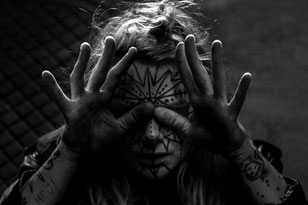 "I'am a demon, I'am a mother, I'am a warrior"

Swedish Dark Wave band True Moon is releasing a video for their debut single "Voodoo". The minimalistic band is fronted by Karolina Engdahl who´s strong voice both empowers and stand out in a dark and raw musical landscape. The lyrics grasp hold of the listener as Karolina is both self-disclosure and provides the safety and closeness only a mother has the ability to do.
As the mystic Malmö based band releases 'Voodoo' as their first track, their debut album lures around the corner and will be released the 18th of November. True Moon got the darkness and melodies from the Scandinavian music scene but at the same time hold a foot in the genuine post punk scene from England in the early 80´s. True Moon is the cold breeze that gives us pleasure in our otherwise hell-filled world...
True Moon produced by Jari Haapalainen and recorded by Tommy Tift in Studio Motion. True Moon´s core is made up by Tommy Tift and Karolina Engdahl who also is the songwriters from the band Vånna Inget. The bands debut album will be released the 18th of November on Lövely Records.