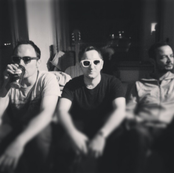 Supercharged Hackney punk band The Dissociates are pleased to be streaming their brand new 4-track EP released this week via Safety Second Records.
Dissociates are a four piece Post-Punk / Pop-Hardcore band from London consisting of Dan (Guitars & Vocals), Ned (Guitars & Backing Vocals), Shlauff (Bass) and Julian (Drums).
The EP which was recorded with James Bragg at Middle Farm Studios was the punk quartets first new music since 2011's 'Drown This Town'.