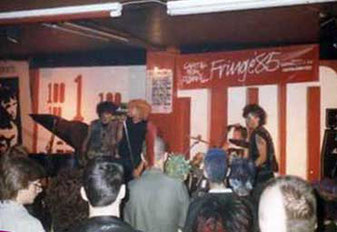 Second out in a new digital series of old music back on track again and also with never released stuff is Existenz, a sampler with all their recordings from 1983-1986 out on HEPTOWN RECORDS.
Existenz was a punk band from Bjuv / Åstorp outside Helsingborg in Sweden. The band formed in 1983 in the suburbs of Helsingborg. The band had existed before but with another singer and another name,  Agda Anal.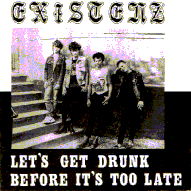 The first 7" self named vinyl single came out in 1983 and their 12" vinyl "Let's Get Drunk Before It's Too Late came out 1984. Both on their own label X-Records.
The band played gigs around Sweden in this period 1983-1986, and appeared in fanzines and was featured on compilation cassettes, that most of the Swedish punk bands, did during this time.
A big difference to other Swedish punk band bands was that Existenz was over and played in England in two rounds.
Three gigs in London in 1984
Existenz + Urban Dogs
Existenz + Uk Subs + Vibrators
Existenz + One Way System

Uk Tour 1985
Newcastle- Existenz + Bannlyst + Instigators
Sunderland- Existenz + Instigators
Coventry- Existenz + The Depraved (Varukers canceled)
Bristol Existenz + Icons of Filth, was canceled due to riots with the police, etc.
London Existenz + Instigators + Urban Dogs at the legendary 100 Club

The last gig was in 1986 at the Copenhagen Ungdomshuset.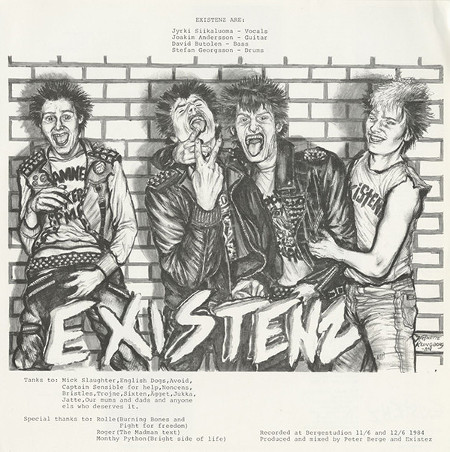 After the band split up Jyrki and Stefan played with Metal Bizarre for awhile and Jocke played with the Outlaws. Jyrki has since then played with The Negatives and is now playing with Punk Mahone and The Wynos.