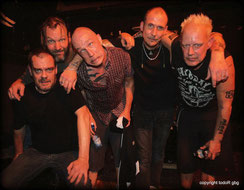 Tobbe from Moderat Likvidation join the Bristles
THE BRISTLES welcomes Tobbe from former Moderat likvidation as a permanent member of the band.
The last year (2015) Tobbe has been joining the band as a guest. Now it's decided that we'll combine our forces and strengthen the band's vocal abilities full time.
Tobbe is a friend of the band since the beginning of time (almost anyway). He's also made a similar trip like us. Without these experiences, and what it does to a person, the cooperation probably wouldn't be either possible nor of interest.
Bristles will still be playing some Moderat- and cover songs, for a time any way. The emphasis, however, will be on the new Bristles material, until it's time to write new songs with the new lineup.
About the new video and the song "Sweden, where god only comes to shit":
In the autumn of 2015 the Swedish government proclaimed Refugees welcome, when other European countries said wouldn't give refugees shelter. A couple of months later the same government changed the politics to the opposite and executed the strictest migration policy in the EU under the pretence it needed a respite. The Fascists rightly accused the Social Democratic government for stealing their politics. So now Sweden's got Nazis patrolling the streets, "protecting Swedish women", when they're not beating the same women to death. Refugee camps are set on fire, beggars and asylum seekers are being beaten. According to the poll the Fascists now get around 15 percent of the votes.
Live:
04.11. Hamburg, Hafenstraße + Toylettes + @Nerft
05.11. Kiel, Hochbunker + Eat the Bitch + Paradocks