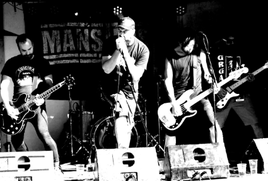 Norwegian punk/hardcore five-piece group THE MANSTERS have just shared "The Battle Of TBG", another brand new single from their self-titled debut album via PureGrainAudio, who described the track as a "sick 47 second blast of hardcore punk fury".
Influenced by the punk and hardcore scenes from the 80's and early 90's, Norwegian audio terrorists THE MANSTERS formed in 2006 and have released a demo and two EPs since their inception.
Now in 2016, after a three-year hiatus, the five-piece group from Tønsberg are back with a renewed line-up and are ready to unleash their debut full-length, a relentless and raucous 10-track effort that mixes the nihilism of punk with the fury of hardcore and the hard-hitting heaviness of thrash-metal.
Recorded by the band, mixed by Runar Magnussen and mastered by Dan Randall at Mammoth Sound, The Mansters' new LP is fast and relentless from start to finish, without a single pause to gasp for air and is set for release via Ampmandens Records, D-Beat Hjerte Records and Wooaaargh.