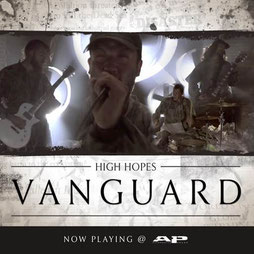 On the earth-conscious video, vocalist Nick Brooks explains, "This world is our home, and it seems like we're going out of our way to destroy it. We've only got one shot on this planet and we need to stop taking it for granted. 'Vanguard' is a track that means a lot to us for this exact reason. If something isn't done soon there will be nothing left, we need to be the change to preserve the world for generations to come."
Drummer Daryl Pryor adds, "World issues aside, shooting 'Vanguard' was a whole lot of fun. All the rubbish that you see in the video was sourced from recycling plants and garbage bins, it was kind of gross sorting through it but we felt it definitely played a part in the meaning behind the video."
HIGH HOPES has partnered with Stand For Trees(1) to address awareness of our planet.
"We approached Stand For Trees because it is an organization that is designed to empower everyday citizens to be a part of something that relates and affects everyone, something so simple as protecting an endangered forest can have a huge impact on CO2 emissions around the globe. People need to start taking action as we've only got one planet. We are very honored to work with Stand For Trees as it is not just a charity working to benefit one specific group of people, it is universal which is very much the meaning behind the song too."
"HIGH HOPES is an incredible example of a band that is environmentally conscious and has taken steps to change the planet for the better. Stand For Trees applauds HIGH HOPES in their awareness raising of the impacts everyday citizens have on climate-related issues, and particularly their desire to provide solutions to some of the ecological disasters that we are currently facing. Stand For Trees is humbled to be included as a part of these solutions to conserve ecologically significant forests throughout the world," says Peter Mach, Assistant Director of Stand for Trees.

"The song is about the necessity for people to become more aware of looking after the world we live in. Everyone shares the planet and it is crucial to remind ourselves that our actions reflect the environment we live in," continues Brooks.

Following recent tours in the US, Japan, China and Europe, HIGH HOPES will continue touring into 2017 in support of their debut Sights & Sounds. US and European tours are scheduled, stay tuned for those dates to be announced soon.
(1)
About Stand For Trees:
Stand For Trees is citizen action campaign launched in 2015 by Code REDD that uses the power of social media and crowdfunding to fight global deforestation. Stand for Trees empowers everyday citizens to crowdfund a more sustainable future for local and indigenous communities while conserving forests, reducing greenhouse gas emissions, and protecting wildlife. Code REDD is committed to protecting the world's most spectacular forest landscapes and the communities and wildlife that call them home. Our work creates a sustainable income stream for high impact forest conservation projects, and we strive to inspire awareness of the value of forests through art, information, and technology.
https://standfortrees.org/en/