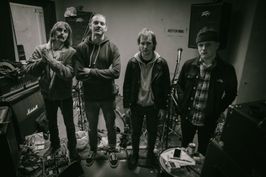 On March 17th, 2017 Rotten Mind returns with their second self-titled album to be released on Lövely Records. The album contains ten tracks filled with alienation and Swedish darkness. The hooks are stronger, the melodies more diverse and the tracks are both more direct and powerful. The first single "Things I Can´t See" will be released in January 2017 on a seven inch vinyl.
Jakob Arvidsson / Rotten Mind about the new album:
"We had just arrived from a tour in France when we started to record our new album. We recorded with PA Westin in "Studio Löten". A studio that was unknown to us until we entered it for this recording session. Our main idea was to work in a new way. We had no rush and the songs were written during a period that lasted for over a year. A time where we spent much time on the road. We wanted the record to be darker, the sound to be larger, both the influences and lyrics to be based out of our feelings. Much of my focus has been on not getting stuck in the same old rut. Influences are based more upon my experiences from art, places I visited and connected to. There is so much that the world has to offer when we raise our eyes and just let go. This album has already taken us as a band on a journey."

The album was recorded by PA Westin and co-produced by Mikael Lindqvist in Studio Löten. Artwork by Peter Jonasson. Rotten Mind released their debut album "I'm Alone Even With You" 2015 and have since toured europe twice and done countless shows. The band will tour Europe again during the Spring 2017. Pre-orders can now be done through Lövely Records.