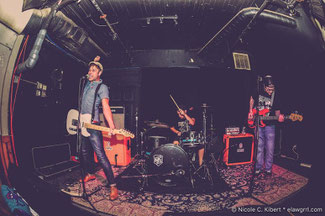 It's been a hectic few months for Atlanta folk punkers Aree and The Pure Heart. Earlier in 2016, they signed with Bearded Punk Records, shortly after which, they released their debut, five track EP Heartsongs. Now, to end their whirlwind year, the bucolic band is back with their very first music video!
The video (for the stellar single "American Love" from the aforementioned EP) captures a simpler, grittier side of classic Americana and features the hallmark, genuine sound that we've come to expect from this infectious up and coming act. If you're a fan of Steady Hands or early Against Me!, you're definitely going to want to check this one out.
Give it a peep below!

Quote by frontman Aree Ogir:
"American Love is a song about the struggle of what it means to be a part of America in these days. It speaks to the double-edged nature of the relationship conscious Americans have with a country that has so much to offer, while simultaneously breaking your heart with a long trail of ongoing violence and oppression."