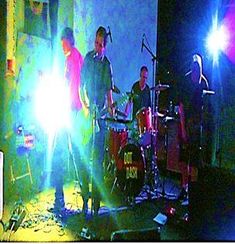 Over the last five years Washington D.C.-based Dot Dash has had five albums released, all via Canadian indie label The Beautiful Music.

Dot Dash has played shows with The B-52s, Tommy Keene, The Fleshtones, Ash, The Psychedelic Furs, The Chameleons, The Dickies, Hugh Cornwell, The Monochrome Set, Ian Hunter, Stiff Little Fingers, Glen Matlock, The Bats, Sylvain Sylvain, The Godfathers, Wussy, Urge Overkill, The Drums, The Trashcan Sinatras, Frankie Rose, The Clientele, Drivin'n'Cryin', The Empty Hearts, Matt Pond PA, Jack Grisham, Moon Duo, Chris Stamey, Wax Idols, The Explorers Club, Allo Darlin', The Supersuckers, Stevie Jackson, and lots of other rocking combos.
WASHINGTON POST: "Everything we've ever read about Dot Dash plays up the group's collective resume: Singer/guitarist Terry Banks was in St. Christopher and the Saturday People before teaming up with bassist Hunter Bennett in acclaimed indie-rock band Julie Ocean; guitarist Steve Hansgen played bass for hardcore legends Minor Threat and Government Issue, and then the mod group Modest Proposal; drummer Danny Ingram co-founded harDCore band Youth Brigade. Very impressive. But we're more interested in the music, a retro cocktail that recalls the yearning indie-pop of Sarah Records; the '80s neo-Byrds jangle of R.E.M., Orange Juice and other seminal college radio artists, and the tight, throbbing basslines and slashing guitars that evoke the Jam and the Clash."
Searchlights (2016),
Earthquakes & Tidal Waves (2015),
Half-Remembered Dream (2013),
Winter Garden Light (2012),
spark>flame>ember>ash (2011.)

This free-for-download 5-song digital E.P. collects one song from each: