ROTTEN MIND spielen Punkrock, allerdings – und da sollte mensch sich von dem harschen Bandnamen nicht verunsichern lassen – eine Mischung aus US-Garagen-Rock und britischem 77-Style.
Auch auf dem neuen, selbstbetitelten Longplayer tritt das Ergebnis verdammt gut in den Hintern und reißt mit seinen grandiosen Power-Chords und Melodien umgehend mit. Jetzt kommt mit "Things I can't see" die 1. Single-Auskopplung vom kommenden selbstbetitelten Album, das am 17.03. auf Lövely Records erscheint.
The single is the first new music since the band released thier debut album "I'm Alone Even With You" in 2015. Rotten Mind have received praises from Noisey and NME for their garage rock/post-punk mash up. The band has since then toured Europe twice and done countless shows. Rotten Mind will release their new album on the 17th of march and will tour Europe and Australia during the Spring of 2017 as well as North America in september.
Rotten Mind's upcoming album will be released the 17th of Marsh by Lövely Records.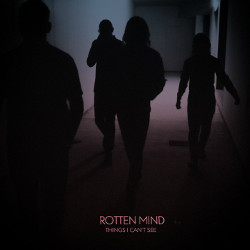 Rotten Mind - Things I can´t see