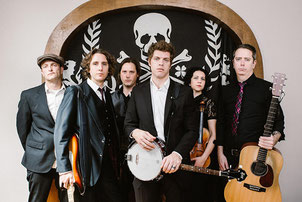 Chicago's favorite sons THE TOSSERS return with a new album, Smash The Windows, nearly a quarter of a century since their inception. The album is set for release on March 3rd, but today the band gives you a first taste with "Erin Go Bragh," just in time for their 2017 touring plans to begin.
Vocalist Tony Duggins explains "the story of the Irish coming to America," in 'Erin Go Bragh,' and in support of Smash The Windows, THE TOSSERS will hit the US to paint the crowds green with their intoxicating anthems. The first leg kicks off March 1st outside Detroit, MI, and will head East before returning to the Midwest to celebrate St. Patrick's Day with their annual hometown blow-out at Chicago's famed Metro. More dates will be announced soon.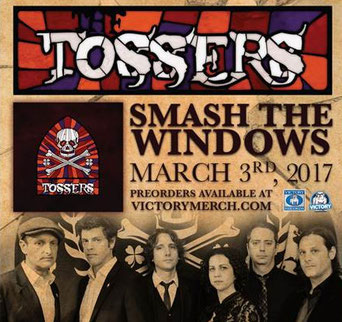 Twenty four years since their inception, undisputed punk hooligans The Tossers have emerged holding the Irish crown with their latest release, Smash The Windows, set for release on March 3rd, 2017.

Throughout the 1990's and 2000's, The Tossers defined their sound as their contemporary peers were sculpting their own like-minded bands. These Southside Chicagoans, whose members were largely born and raised in an Irish Catholic enclave, use traditional Celtic instrumentation with a snotty, punk rock edge.

Not content to remain in their Irish stronghold, The Tossers came to Chicago's Victory Records in 2005 to release The Valley Of The Shadow Of Death. Their unparalleled work ethic was highlighted with 2007's Agony, which took their unashamed live shows to Ireland, France, Finland, Sweden, UK and all over Europe. In 2008, the band demonstrated their live prowess with the collection, Gloatin' and Showboatin': Live on St. Patrick's Day on DVD/CD. New music followed later that year with the release of On a Fine Spring Evening. Having kept fans waiting, The Tossers released The Emerald City, in 2013, dubbed "their most complete and fully realized release" by Alternative Press.

In 2017, The Tossers are ready to deliver Smash The Windows – a 17 song, action packed album that tells the story of Irish America, and the epic spirit of culture and heritage. No, these are not dusty old moments of The Tossers past. To record Smash The Windows, throaty front-man/mandolin/banjo expert Tony Duggins and the gang teamed with longtime producer Andy Gerber at Million Yen Studio in Chicago in mid-2016. With his brother Aaron Duggins blowing the tin whistle steam, The Tossers include the deep-rooted team of Mike Pawula on guitar and drummer Bones, bassist Peter Muschong, and newest member Emily Ruth Constantinou on violin.

A constant crowd pleaser, The Tossers channel everyone's inner Irishman with upbeat anthems and lyrics that speak of their lives. The band plays countless live shows every year, spreading their Irish spirit and winning fans with every joyous performance that they've been mastering for decades.