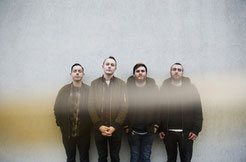 Toronto Canada's The Flatliners will release "Inviting Light", their sixth studio LP (and first for Rise Records) on April 7, 2017.
A new song titled "Human Party Trick" is now streaming.
The Flatliners' career is a testament to perseverance and dedication. With a lineup that has never strayed from the original members who met as teenagers, the band has since logged countless miles on the road and amassed a dedicated legion of fans along the way.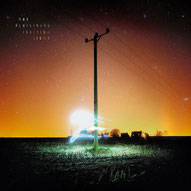 Now approaching 15 years of hammering out bombastic tunes everywhere from dive bars to festival stages to European concert halls, The Flatliners hold fast to the DIY punk-rock ethos that has been at the group's core since the beginning. The band came out swinging with youthful exuberance on their debut record, Destroy To Create, in 2005, and they've honed their anthemic style with each subsequent release: The Great Awake in 2007, Cavalcade in 2010, Dead Language in 2013 and Division of Spoils in 2015.

But frenetic touring schedules and prolific recording output takes its toll, and The Flatliners decided to spend the majority of 2015 off the road to recharge and reconnect with friends and family. Striking a balance between home and road life is a difficult task, but frontman and guitarist Chris Cresswell concedes that it's necessary.

"That's what we've been in search of for probably the last seven years. We noticed it in ourselves, and that's what we're really striving for now," he says. "We have a lot of people in our lives that are super supportive of what we do, and we're supportive of each other."

The band may have opted for more downtime, but there was still plenty going on behind the scenes. Early in 2015, the guys found themselves without the familiarity of the jam space they had inhabited for nearly a decade—four walls that had been the incubator for hundreds of songs and uninhibited creativity. Several months were spent renting rooms wherever they were available before the band was able to settle into a new space, but the group did their best not to let the upheaval hinder their burgeoning roster of new material. Borne out of that chaos was Nerves, a two-song EP released in October 2016 that also marked the band's first recording on Dine Alone Records.
The recording serves as a taste of what eager fans can expect to hear on The Flatliners' new album, Inviting Light, set to be released on April 7, 2017. The band has been working hard to refine its unmistakable style, ensuring they don't lose sight of their roots while continuing to move forward.
"Inviting Light is about trying to keep up with life around you but also wading through the potential bullshit of people thinking that a digital landscape is more important than their friends," Cresswell explains. "It's inevitable that you're fighting for people's attention now, whether you're a band or an individual, and there's not as much value placed on face-to-face human interaction as there is in elevating the profile."
Meaningful interaction may be more difficult to achieve these days, but the group's steadfast members continue to build on the enduring connection that brought them together all those years ago, celebrating one another's personal milestones and weathering each new experience as a unit.

"It feels like we're onto something," Cresswell adds. "It's exciting for a band to be 15 years into their existence and have this. It's a refreshing thing."