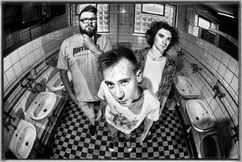 Mit Johnny's Song koppeln die Düsseldorfer Reggae-Punks, THE TiPS bereits den fünften Song des aktuellen Albums TWISTS'N'TURNS als Video-Single aus! Der wohl punkigste Song des Langspielers dokumentiert die umfassende Release-Tour des letzten Jahres mit insgesamt über 60 Shows in fünf Ländern und Festival-Highlights wie Boomtown Fairtrade (UK), Bearded Theory (UK), Open Flair oder Olgas Rock.
Damit aber nicht genug! Einhergehend mit der Video-Veröffentlichung wird die erste Live-Rutsche für 2017 inklusive UK-Tour und Chiemsee Summer Festival-Bestätigung angekündigt.

Reggae music from Dusseldorf, Germany?  Not the sound that most people would associate with that city.... People familiar with today's youth culture might default to images of Germany's underground punk movement. THE TiPS began their musical journey within that scene whilst introducing elements of cozy reggae along with smooth soul into their hard driving punk songs - A process which created their unique sound and style. The punk scene have continued to follow THE TiPS throughout, whilst the band's style has been quickly attracting a larger and more diverse fan base. 

THE TiPS are deeply rooted in their local skateboard scene. Faf and Jay continue to push their own abilities while also helping to organize local contests. Recently they were honored to have Helge Tscharn, a legendary skateboard photographer, long time member of the Monster Skateboard Magazine editorial board, who currently resides in Brazil, shoot their promo photos and contribute to their press pack. Stefan ABeham who has worked with such artists as Zebrahead, Lagwagon, Authority Zero and Wilhelm Scream designed the artwork for 'TWISTS'N'TURNS', as well as a signature THE TiPS skateboard. The deck is sponsored by Pavel Skates and Reell Jeans and will be available in skate-shops along with a download hangtag of the album. THE TiPS are honored to be supported by Concrete Wave Cologne.