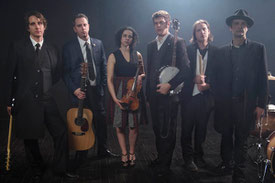 "'It's your lucky day, ya prick' roars THE TOSSERS' lead vocalist Tony Duggins on "The Horses," the second single unveiled from forthcoming new album Smash The Windows, set for release on March 3rd, 2017.
Clapping thunderously out of the gate, "The Horses" recounts the story of a stakes win at the track, alongside the band's signature elegance and neck-break Irish punk rock spirited sound. 
THE TOSSERS recently released "Erin Go Bragh," and will be on tour celebrating nearly a quarter century together. The tour kicks off March 1 in Ferndale, MI, closing with an anticipated sold-out hometown show at Chicago's Metro, on March 17.
New album Smash The Windows is a rollicking, rowdy journey through Irish Chicago culture, which in many ways mimics the tumultuous tone and climate of America today.