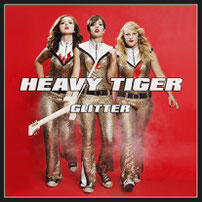 Am 24.März gibt es wieder geballte Girl-Power!
HEAVY TIGER werden ihr zweites Album "GLITTER" via Wild Kingdom Records (Sound Pollution) veröffentlichen.
Musikalisch packt das Trio unter anderem KISS, Suzi Quatro und die New York Dolls in einen Sack und schüttelt diesen kräftig durch und haut mit viel Kraft ihren eigenen Stempel drauf.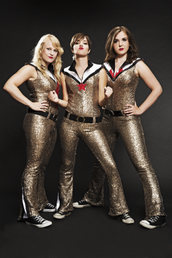 It's been a busy time for Heavy Tiger, spending the two past years constantly on the road. The Stockholm trio has been touring all over Europe, making national television and even playing in Japan as well as Vietnam to the delight of their ever-growing fan base. However, after completing another European stint last spring together with Backyard Babies, it was finally time to exit the tour bus and record a new album.
Glitter, the band's sophomore effort and the logical sequel to their debut Saigon Kiss is now ready to be launched to an unexpected crowd! The album was produced by Rikard Löfgren with Gustav Ydenius handling the recording duties at Leon Music Studios (Mustasch, Sparzanza, Sister Sin).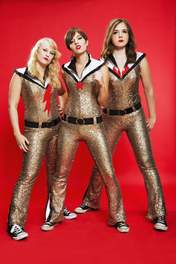 So, what can one expect from the Stockholm rockers? The first single, entitled Devil May Care was written for the band by singer Ola Salo of the Swedish pop/rock phenomenon The Ark and produced by Nicke Andersson (Imperial State Electric). With Devil May Care, this little Adam Ant-scented pop song is no exception. The single was the band's first release on Wild Kingdom Records
It's both easy and tempting to label Heavy Tiger as retro. Alas, that would be a great disservice to both the band and the listener. Sure enough, there are both echoes of The Clash and Thin Lizzy in their songs and it's not hard to visualize a The Hellacopters turntable in their rehearsal room. While it might come in handy to mention Suzi Quatro, KISS, The New York Dolls or any other glam rock act peaking in the seventies in the same breath as Heavy Tiger, the band isn't about nostalgia. Something completely different came out since that faithful day in 2010 when Maja, Astrid and Sara, only being 17 at the time, started jamming out together.
The influences are worn with pride, none more specific than the other. But instead of just cheeringly repeat the past Heavy Tiger manages to create something remarkably refreshing and naturally relevant today. Now that's an achievement on its own!
And thanks to their involvement in TUI's new TV commercial and the success of the song "Let The Sunshine In" (in writing at top 10 on Itunes Germany Rock section) Heavy Tiger is at the moment receiving a great deal of attention as well as a lot of new fans.