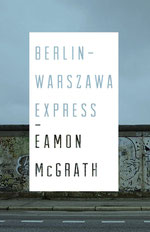 On May 10 Eamon McGrath is releasing his first book, "Berlin-Warszawa Express", on Toronto's ECW Press. To support its release he is playing over 28 shows in Benelux, Germany, Austria, Switzerland and Scandinavia in May and June. The book rests perfectly in his canon as a songwriter however, bridging the gap between the sung and written word, and the shows will also be the perfect extension and best way to display its contents live.
The book is told from the perspective of a songwriter touring Europe by train in the mid-2000s, watching and describing the cultural changes unfold before his outsider eyes as he passes through the continent.
While touring Europe, Eamon McGrath wrestled with one of the biggest questions on the mind of any touring artist: should you suffer for your art? The pain and heartache that goes along with a working musician's lifestyle must serve as a means to some kind of cathartic end, McGrath argues — otherwise that torment served no purpose. In Berlin-Warszawa Express, McGrath fictionalizes experiences from his life and the lives of his peers to seek out meaning and significance in the tumultuous and emotional experience of living on the road.

From boozy techno-fied weekends in Berlin, to punk squats in Prague, to the alleyways and barrooms of Vienna, McGrath chronicles the dramatic changes in emotion and culture occurring on both sides of the train window in this raucous debut.
Pre-order BERLIN-WARSZAWA EXPRESS direct from ECW Press here.
At 28, Eamon McGrath has a list of accomplishments under his belt that would echo that of an artist twice his age: 250+ songs written and recorded, album of the year credits, multiple tours and festival appearances throughout the UK, Canada and Europe, and stints playing in the backing bands for both the legendary Daniel Johnston and Julie Doiron.

McGrath's style is constantly changing and his shows range from sweaty, physical, barroom experiences, to quiet, intimate acoustic concerts best reserved for soft-seat theatres. In the span of a single concert, and sometimes in the span of a song, string-shredding guitar solos weave their way into heart-wrenching confessional lyrics, sung with an adolescent howl like no other.
EUROPEAN TOUR DATES:
May 23 - Geneva, CH @ Urgence Disk Records
May 24 - Rorschach, CH @ Treppenhaus
May 27 - Saarbrucken, DE @ Incore Festival
May 28 - Herzogenbuchsee, CH @ Judgendhaus
May 31 - Hamburg, DE @ Rote Flora
June 1 - Copenhagen, DK @ Underwerket
June 2 - Stockholm, SE @ Larry's Corner
June 3 - Gothenburg, SE @ Fängelset
June 6 - Luzern, CH @ The Phrontistery
June 7 - Mannheim, DE @ Kurz Bar
June 8 - Tavannes, CH @ Pineapple Juice Asso.
June 9 - Mainz, DE @ Dorrett Bar
June 10 - Munich, DE @ Suedstadt
June 11 - Wiesbaden, DE @ Kreativfabrik
June 13 - Amsterdam, NL @ De Niuewe Anita
June 14 - Ghent, BE @ Cafe de Loge
June 15 - Brussels, BE @ La Porte Noir
June 16 - Bielefeld, DE @ Whatever Happens Festival
June 17 - Innsbruck, AT @ Die Backerei
June 18 - Feldbach, AT @ Cafe Glam
June 19 - Vienna, AT @ Polkadot
June 20 - Berlin, DE @ Valentin Stuberl
June 21 - Chemnitz, DE @ Lokomov
June 22 - Prague, CZ @ (A)Void Floating Gallery
June 23 - Kassel, DE @ Neu!
June 24 - Nijmegen, NL @ Bart's